NCEG 8th International Juried Enamel Exhibition
"Celebrating Innovation and Tradition in the Art of Contemporary Enameling. "
---
Date:
  June 27 – August 13, 2006
Hours:
  Tuesday – Saturday,
  noon to 5:00 p.m.
Place:
  Richmond Art Center
  2540 Barrett Ave.,
Richmond, CA 94804
510.620.6772
Parking:
  Free / wheelchair accessible
Reception:
  July 8,2006 2:00-5:00pm
Coordinator:
   Judy Stone
The Exhibition:
The 8th International Juried Enamel Exhibition is sponsored by The Northern California Enamel Guild's (NCEG) and hosted by The Richmond Art Center. The exhibition includes functional and non-functional, two- and three-dimensional pieces from the United States, Canada, Japan, Korea,Venezuela, and the ex-Soviet Republic of Georgia.
Awards of Merit will be awarded as cash and in-kind gift certificates. The jurors' awards are given to the highest scoring piece in each category (jewelry, wall work, 3-dimensional). Other awards include: 2 1-year memberships to The Enamelist Society and gift subscriptions to Glass on Metal.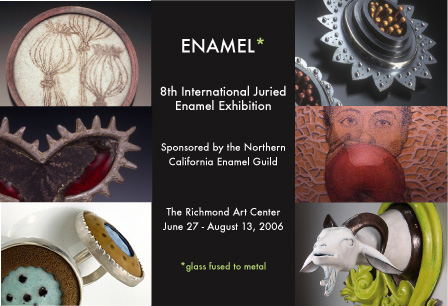 Photos counterclockwise from upper left (with photo credits in parentheses):
Jan Smith (Jeff Scovill), Valerie Mitchell (Ralph Gabriner), Kate Cathey (Robert Diamonte), Miel Margarita Paredes (Stephen Funk), Jessica Calderwood (Michael Healy) & Sharon Massey.
Artists Exhibited :
Rita Deanin Abbey
Ruth Altman
Katherine Bauman
Nisa Blackmon
Irakli Bolgashvili
Sandra Ellen Bradshaw
Juan Carlos Caballero-Perez
Jessica Calderwood
Katbergman Cassell
Kate Cathey
Sookyoung Cho
Carolyn Currin
Joe Casey Doyle
Linda Stoloff Frueh
Tricia Lachowiec
Jan Harrell
Kyung Hee Hong
Jee-Hyang Huh
Chouko Ishiuchi
Janly Jaggard
J. E. Jasen
BokHee Jung
Chris Martel
Sharon Massey
Valerie Mitchell
Susan Moody
Yukie Nishikawa
Kathryn Osgood
Miel Margarita Paredes
Jen Prox
René Roberts
Hanna Robson
M. Miles Rountree
Gary Schott
Lristina Click Shank
Hye Jung Sin
Jan Smith
Yolanda Sucre
Lela Tas
Julia Turner