The NCEG publishes newsletter with information for members including:
membership news
current enameling events
show entry infomration
information on enameling and local classes
updated enameling resources
Please submit articles to the Newsletter Chair by the first of the month to be published the following month. Please include a byline at the end of all articles to include the subject, a one sentence description, and contact information. And, label all files with the last name of the artist and title keyword.
Articles can be submitted in MS Word document. Articles also be submitted in text editor format attached to an email. Or the text can be contained in an email.
Digital pictures must be submitted in jpeg format. Digital graphics should be submitted in gif or png format.
NCEG reserves the right to edit all copy for clarity and brevity.
A sample newletter is provided here to show the newsletter content for those considering joining the guild. This newsletter published for September/October 2005 represents the purposes of the newsletter and covers a major events – the ES conference. The content of this newsletter includes the following:
| | | |
| --- | --- | --- |
|  page 1: | "October Meeting" | – details on the next planned member meeting |
|  page 1: | "Membership News: NCEG Enamelists at Coupa Casa Gallery " | – members showing at the gallery and invitation for all members |
|  page 1: | "Welcome new member" | – announcement when new members join |
|  page 1-2: | "Enamelist Society News Metamorphosis Conference Small But Successful" | – synopsis of the conference |
|  page 2: | "Conference Catalogues and CD's Available for Sale" | – print catalogue and CD for sale from the ES conference |
|  page 2: | "New Board Member Elected" | – ES new board members |
|  page 2: | "Potential Sites for 2007 and 2009 Conference" | – areas being considered for next ES conference |
|  page 2-6: | "Review of Metamophosis, the Conference at Arrowmont" | – discussion on the ES conference events, workshops, and discussions |
|  page 4-5: | "Pictures of members in Exhibition" | |
|  page 7: | "Maria-Elisa Perex Embossing Workshop" | – review of the workshop at the ES conference |
|  page 7: | "For Sale" | – a regular listings for enameling equipment or materials for sale to members |
|  page 7: | "Where to show" | – information of upcoming shows that members may show |
|  page 8: | Mail cover | – Guild contact information and mail address. |
To view each of the eight pages in this newsletter, select the page number and the page will be displayed below the page number.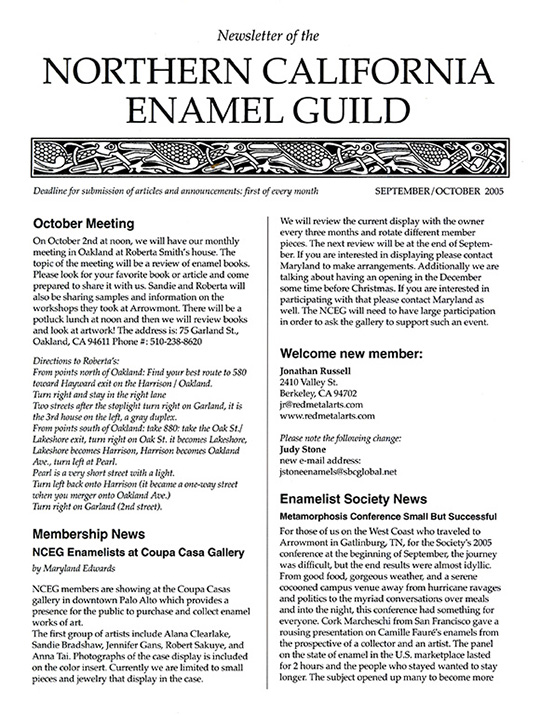 The published newsletters are not on this website. The newsletters are mailed directly to members and a catalog of the newsletters are archived in the library.
The following lists articles and the newsletter that contains that article. The newsletters are archieved in the printed library.
The newsletter archive can be found at NCEG Newsletter Archives.
Some articles are available to see in this list marked with an ∗∗
| | | | |
| --- | --- | --- | --- |
| ARTICLE: | BY: | SYNOPSIS: | NEWSLETTER: |
| An evening with Falcher Fusager | Sandra Bradshaw | Metals Arts Guild meeting with Falcher Fusager from Magic on "How to Make Your Business Succeed. | November 2004 |
| Katy Bergman Cassell Workshop at The Crucible | Gay Bell | Review of Katy's workshop "Enamel and the Drawn Image" at The Crucible for the NCEG Exhibition 2004. | November 2004 |
| Bergman Cassell Slide Presentation at the ACCI Gallery | Gay Bell | A review of the slide show at the ACCI Gallery by Katy Bergman Cassell for the NCEG Exhibition 2004. | November 2004 |
| D.X. Ross Grisaille Workshop | Adrienne Leifer | Review of a master clsss in grisaille enameling with D.X.Ross at Mendocino Art Center Oct 2004. | November 2004 |
| Creative Vision – Fired Play | Kathleen Kay | Article on enameling texture & tactile surfaces. | December 2003 |
| Precious Metal clay for Enamelists | Irene davis | Review of the PMC workshop at NCEG Conference 2004. | March 2004 |
| Welding of Copper and other Non-Ferrous Metals | Tom Nelson | Review of at Jan 2004 NCEG Conference) | February 2004 |
| Jean Tudor Workshop | Sandie Bradshaw | Review of workshop at Jan 2004 NCEG Conference | February 2004 |
| Small Scale Cloisonne | Mary Wieneke | Review of Merry-Lee Rae workshop ES Conference Aug 2003 | February 2004 |
| Jean Tudor Workshop | Sandie Bradshaw | Review of workshop at Jan 2004 NCEG Conference | February 2004 |
| The Creative Process and What Kills It | Gay Bell | Review of Ken Bova at ES Convention | January 2004 |
| "Research on New Zealand Enamellist Annie Buckhurst" | Gay Bell | Enamels and history of enamel at the Wellinton Museum in New Zealand | January 2004 |
| ∗∗Harlan's Butt's Cloisonne' Enamel Workshop | Nancy Goodenough | Tips and techniques from 5 day workshop. | |
| ∗∗Cold Joining Presentation with Susie Gance | Sandie Bradshaw | Demonstration on tub riveting, slots and tabs and threaded connections. | January 2003 |
| ∗∗Electroforming slide presentation by Florence Resnikoff | Alana Clearlake | Electroforming by itself and in combination with other metal techniques and materials. | January 2002 |
| ∗∗Karin Phol Limoge demonstation | Sandie Bradshaw | A detail account of Karin' techique for limoges. | January 2003 |
| ∗∗Moon Beads by Nancy Goodenough | Sandra Bradshaw | Detail account of Nancy's demonstration of torch firing her Moon Beads. | |
| ∗∗Torchfiring enamel beads with Aileen Geddes | Irene Davis | Demo of techniques for beads fired on metal tubing. | January 2003 |